Queen of the floral crown and fabulously mystical, Fashion Designer Alice Halliday is the lady behind the famous Florence + The Machine cape – and her bespoke bridal creations are equally magical! We caught up to hear about her one-of-a-kind accessories and eco-inspired signature gowns… Did we mention we are HUGE fans? These images will leave you totally starstruck!
Tell us about yourself?
I am a proud mama of nearly four years now, to a divine little man called Naythan! I am also a fashion designer/stylist working from home, in my hometown of Skibbereen, West Cork. I studied my degree in Fashion Design at UCA Epsom, near London, graduating in 2010 with a 2:1 (1% off a first). I specialise in one-of-a-kind wearable pieces of art, mainly dresses and statement head pieces. As a strong supporter of ethical & sustainable fashion, I make each piece myself, by hand using the finest locally sourced and reclaimed vintage materials. I also do creative styling for editorials and model portfolio shoots.
I am a daydreamer, a nature lover and a real family gal. In my free time I enjoy walks in the countryside, thrift shopping, decorating, dining on fine food and a good old dance… My fave movie of all time is The Sound of Music- utterly inspiring! (Naythan loves it too, which means a lot to me).
Tell us about your style?
My signature style can be described as just the right balance of 'old world' elegance and contemporary design. It's ethereal, elegant, bohemian, vintage inspired.
How has your background influenced your style over the years?
I grew up in the beautiful countryside of Castlehaven and spent a lot of time outdoors surrounded by nature. West Cork is just full of magical places, such a wonderful place to have spent my childhood. We wore alot of hand-me-down clothes as kids, which we loved, and it meant we had a quirky style. Thanks to my mother's make-do-and-mend attitude, and dress making skills, passed down from her mother… I developed a love for sewing and using old fabrics. I became interested in fashion design at the age of nine and used to style my sister and our friends by holding fashion shows for our parents! My background certainly influenced the romantic quality of my designs.
So, how does the design process of a bridal piece work ?
I work from a material based perspective, letting the materials tell me what to do. I drape and play with them on the mannequin, take photos and then rework them until I get the design just right.
What is your bridal inspiration when designing?
Vintage fashion, the eras I find particularly inspiring are the 1920s, 60s and 70s. I just love the bohemian, free spirited bridal look, with draping, beading, chiffon and lace. I also look at the illustrations of artists such as Cicely Mary Barker and Alfonse Mucha, for inspiration.
What can brides expect to see in your designs over the coming months?
Lots of vintage lace and crochet, intricate detailing, embellishments… elegance, romance, soft silhouettes. As well as gorgeous flower crowns made using both artificial and real dried flowers.
What has been the highlight of your design career?
Florence + The Machine wearing my white lace beaded cape on stage during her 2010 tour in Australia and the US, which resulted in a media blitz, including a feature on Vogue.co.uk, and appearances on RTE's Off The Rails and The LATE LATE SHOW. It was just a dream come true, she was my muse at the time… I still can't believe it happened, such a huge honor!

Do you have any tips for brides/guests on the must-have accessories this season?
Intricate flower hair vines are so in, they come in all styles and sizes, and really add a delicate touch to your outfit. Draped jewel details and crystal embellishments are also on trend, in my opinion, a bit of glitter and sparkle is always magical!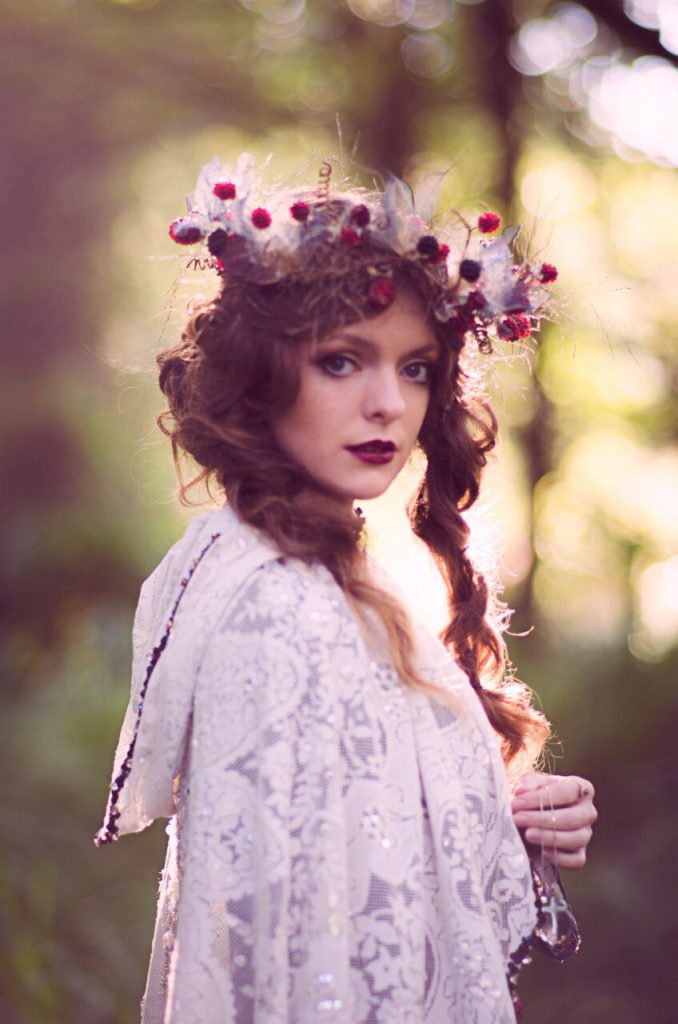 How does being environmentally-friendly factor into your designs?
Being ethical and supporting sustainability is something I've always been passionate about! I love to use vintage materials whenever I can. I also try to source the majority of my materials locally, to reduce my carbon footprint, and of course it's important to support other local businesses too.
I refer to my work as 'Eco-Couture' or 'Couture with a Conscience' not only is it ethical and environmentally friendly, but also affordable. I think people assume my pieces will be too expensive and get scared off. But really there's nothing to be afraid of, my custom headpieces start at just €80, event dresses are from €200 and bridal dresses start at €500.
What designers influenced you during the early stages of your career?
Vivienne Westwood, Rodarte, Richardo Tisci, Alber Elbaz, Dolce & Gabbana…
What is your advice to brides when choosing a wedding dress/accessories for their big day?
Make sure you feel 100% comfortable, so you can be yourself! It's your special day, you deserve to look and feel your very best. Hearing that my clients felt so comfortable all day, makes me so happy. Why bother with a stiff, restricting, corseted dress if it's going to be painful to wear, or a huge train or veil that will weigh you down, or you might trip up on.
I love to work closely with my clients, to create the perfect fitting dress and/or headpiece, that they can relax and have fun in, as well as looking gorgeous. You can even opt for a two piece dress, where the bottom section can hook on and off, giving you the option of a maxi dress for the ceremony and a shorter dress for the after party!
See more of Alice's stunning work at www.alicehalliday.com
Image Credits:
Black & white photo of Alice –  Virginia Thomas Photography