The past few weeks we've had the sun shining outside and we are all brightening up our days with pops of colour. And with our fingers crossed for the rain to stay away it's now time to bring the rainbow of colours into your wedding day! Whether you are choosing to include the entire rainbow or just one colour here is some inspiration for you:
Wedding Style for the Boys
Here the boys get to have some fun with colour. I do love the different coloured braces!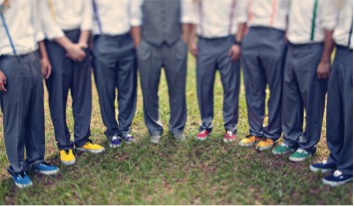 Wedding Style for the Girls
There are so many different places for you to bring colour into the girl's style. Here are some ideas for subtle hidden ideas like the rainbow garter to gorgeous block coloured bouquets to full on multi coloured wedding dresses. Would you be brave enough for rainbow makeup!
Wedding Décor
For those that are a little scared of the more powerful rainbow colours try going for pastel shades like those used in the picture of the chiavari chairs.
The Wedding Cake
A feast of colours for your wedding cake! I love the different ways these images bring colour into the wedding cake, from giving your guests a big surprise with rainbow coloured filling to the full-on multi coloured mini cakes to the quirky & unique Lego cake topper. The choices are endless!
Food for thought
Just one word – Yummy!!!
Images from: Wedding Bee, Pinterest, Style Unveiled, Pinterest, Bridal Guide, Pinterest
Sharon Mc Meel is a wedding planner and our newest guest blogger here at WeddingDates. As a professional wedding planner it is Sharon's  job to help you tell your story across all aspects of your wedding or civil partnership. She makes sure that your day reflects your individual personality, taste and style.