These childhood sweethearts didn't let a little rain dampen their wedding day spirits. Proof that magical photo opportunities can be made indoors too…
Elegant, sophisticated and romantic are the words that best describe Jacqueline and David's Christmas wedding on 28th December 2015. As Storm Frank battered the country, these two couldn't take their eyes off each other as they celebrated with family and friends at Fota Island Resort.
Subtle flecks of rose gold were brought through different elements of their day to compliment the bride's glistening engagement ring. She looked radiant in a stunning bespoke Jesus Peiro gown with delicate embellishment detailing at the waist. Her main ladies donned berry red dresses in keeping with the festive time of year.
Love struck for the pair from across the science lab in 4th year at secondary school – and 12 years later they finally said I Do.
"We spent months sitting at opposite ends of the room in the Science Lab. However, he happened to be directly in my line of sight. After looking at him for so long, I began to develop an interest. It began to dawn on me that it might be mutual as I was sure I spotted a few furtive glances in my direction every so often. Luck stepped in and we met at a friend's party."
After purposely delaying a surprise getaway for Jacqueline's birthday, David waited until the end of November for a winter wonderland proposal at their favourite time of year. The pair enjoyed a relaxing spa day and dinner at The Hayfield Manor Hotel in Cork, the master suite was sprinkled with rose petals and candlelight. David got down on one knee – and it was perfect. Swoon!
"Our priest, Fr Pierce Cormac, conducted the most amazing wedding ceremony. It was personalised, heartfelt, emotional and warm. He made it so special for both of us and our families. Pierce is a friend of David's family and David was the first child he christened, so I think he holds a special place in his heart for David."
"We asked a local café in Skibbereen, Kalbos Café, to set up their mobile food van outside the church after the ceremony to provide tea, coffee, hot chocolate and a sweet treat for our guests. As guests had a long journey to travel between the ceremony and reception we wanted to give them a little something so they wouldn't go hungry."
"David and I both love Christmas. The day after we got engaged, David surprised me with a visit to Imagine at Fota Island Resort. It was a magical experience. Afterwards we went for a hot chocolate in the hotel. We both loved how it was decorated for the Christmas season and also felt that there was a lovely warm feel about the place. We arranged an appointment with the Wedding Coordinator for three weeks later. We knew leaving the hotel that day that it was where we wanted to get married."
"Nothing was ever a problem for our Wedding Coordinator Nicole. She went above and beyond for us. She is super efficient which was so important to me. This was a major help as I am a self-confessed organisation freak! We were very impressed with the food and the service on the day of our wedding. Nicole told us that service would take 2.5 hrs and it did. It ran smoothly and the food was cooked to perfection. This was important to us as we both love our food. Our guests are still commenting on how beautiful the food was and some say it was the nicest fillet of beef they ever tasted."
"Our favourite thing about our photographer, Dermot Sullivan, is his ability to capture magical moments. On our wedding day, Storm Frank had reared its ugly head and it was a very wet day. Dermot still managed to create beautiful photo opportunities. I do think the stunning backdrop of the Cathedral in Skibbereen and Fota Island helped but undoubtedly it was Dermot's ability and experience that has given us these beautiful photos with the most amazing memories."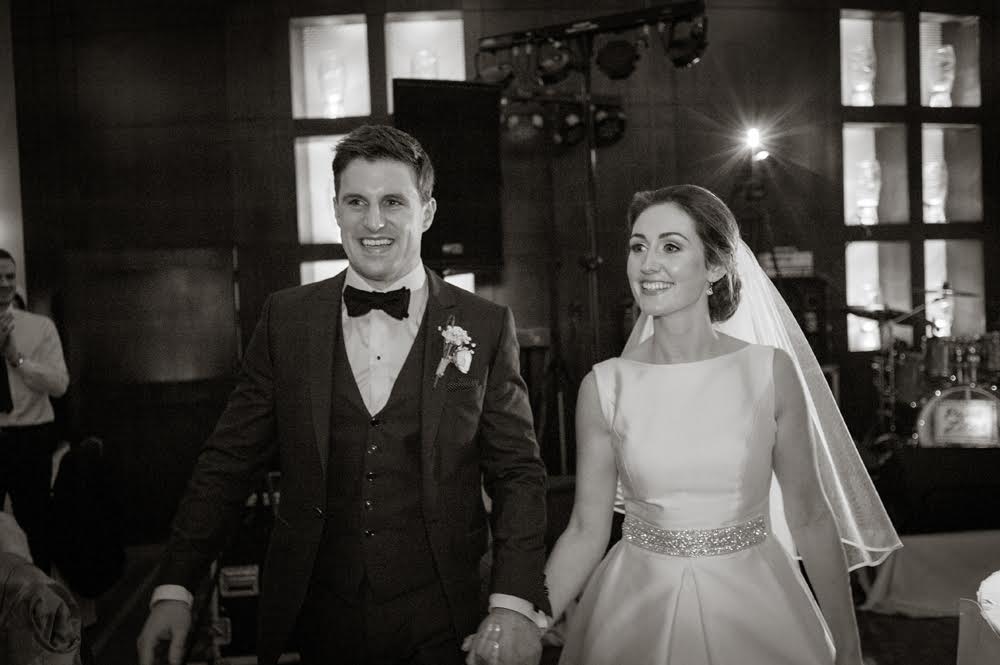 Huge thanks to Jacqueline and David for sharing their special day with us and to their photographer Dermot Sullivan for allowing us to publish these stunning shots. You can see more of his work at www.dermotsullivan.com
Wedding Supplier Credits:
Florist – Catherine O' Mahony – West Cork Wedding Flowers. Helped by Jenny, a relative and florist. "The church looked amazing. The flowers along with extra candlelight added such a romantic feel to the ceremony. Our bouquets were also stunning and the colour of the bridesmaid dresses were really picked up well in the flowers."