When going to a wedding one of my pet peeves is guys dressed in ill-fitted rented suits. For some strange reason a lot of men seem to think that it is protocol to team up with dated shiny waistcoats. Guys please, please stop now!
Doing a little research like shopping online or going to one of my favourite stores such as TK MAXX is a fantastic place to find the perfect suit. For my bestie Paula's wedding, I was part of her bridal party and I thought of only one place where I would get my suit and that was iTailor.com. For my own wedding just over two years ago I had a three piece baby blue suit ( trousers, waistcoat, jacket) made to measure for a bargain of €190. It was so easy to simply follow the instructions of the measurements and away you go!
It is so much fun as you can decide on any pattern, colour, button, inside lining and even have your own personal engraving on the inside of the jacket. So of course this is where I shopped again for Paula's wedding and as seen in the above photo you can read the engraving especially designed for Bridesman David Babington. It was a fabulous surprise for Paula and didn't cost anything extra!
It takes about 6 weeks before it arrives and it cost only €160 including postage and package for a 2 piece tailored suit to your exact measurements. I paired it up with a vintage bow-tie, pocket square, braces and tan shoes from River Island plus shirt from H&M. The combined look was just €240 (excluding my Diesel watch). I will have this suit for life and it didn't break the bank.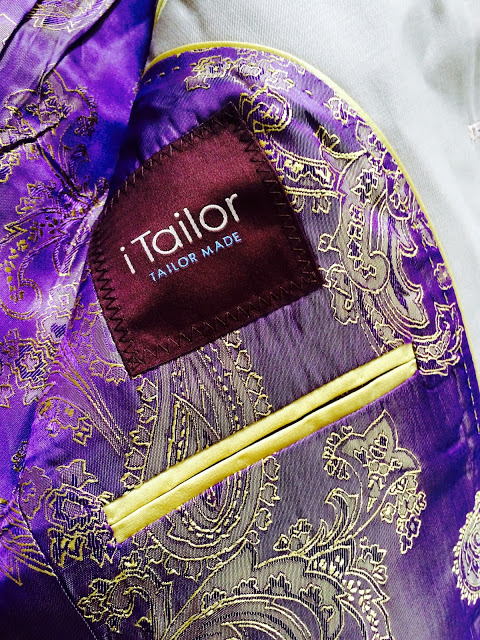 My hubby Pj's suit was bought in TK Maxx. A stunning three-piece grey and blue check suit for just €99. What a bargain! For the special occasion I styled him in my funky dicky bow and pocket square. It just goes to show that you can find the perfect suit online or by simply shopping around instead of wearing a rental option.
So guys, there's no excuse! Smarten up and look the part! MB x