I've always been a fan of Halloween weddings around this time of year because let's face it: autumnal themes are hard to work with. But Halloween weddings give you a really fun, ready-made theme and when you decide to really go for it, you can end up with a cake nobody will ever forget, like this one from Let Them Eat Cake:
If you don't want to go down the whole Halloween colour way route, there are still spooktacular cakes to be had, like this really beautiful blue and silver toned cake from Wild Cakes:
And of course, you can always serve these absolutely adorable ghost cupcakes instead of traditional wedding cake, or send one home with each guest as a wedding favour: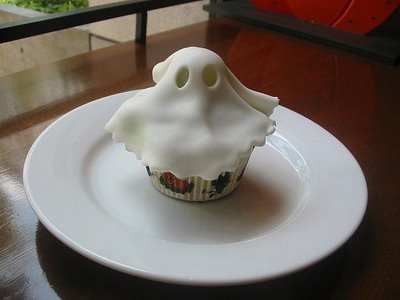 I'm an absolute sucker for wedding cupcakes, but I'm not sure I've ever seen one cuter.
All of these Halloween finds were shamelessly borrowed from Cake Wrecks, a must-read website if only because it will frequently show you what the absolute worst case, everything-gone-wrong, nightmare wedding cake scenario can look like.
Hopefully at someone else's wedding.