Friendship turned to Love – a romantic idea straight out of a chick flick – a platonic relationship moves past the "just friends" stage and becomes something more. Sometimes, this plays out in real life too, and it did, right here with Hannah and Stephen's story.
Hannah and Stephen celebrated their wedding at Clontarf Castle, a venue with the perfect blend of luxurious, modern interior design and traditional architecture. Dating from the 12th century, the castle and landscaped gardens is tucked away in a tranquil setting, just 10 minutes from the heart of Dublin City Centre.  
Hannah tells us their story.
Tell us how you met.
I first met Stephen when I was 28. We worked together for about a year and became such good friends. We started dating in 2015, and to this day, we're still best friends. Now, we live as husband and wife with our beloved dog Bruiser.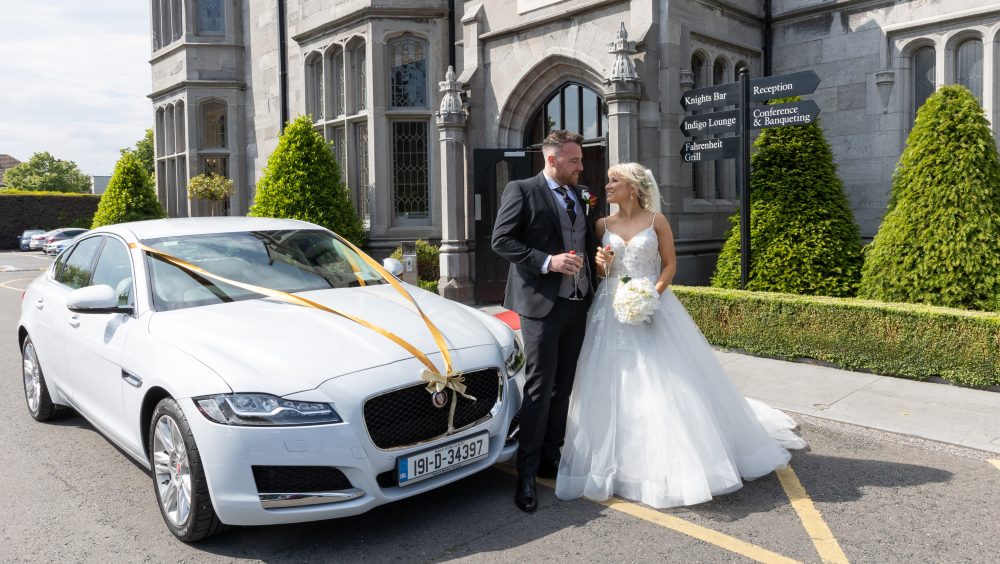 And the proposal?
Initially, Stephen planned a trip to propose at our favourite place in Tenerife. I knew about the holiday but I didn't know he planned to propose there  at our favourite bar with a song playing that we both love. Unfortunately, covid restrictions stopped us from flying out for our holiday.
On the 27th of March 2020, I came home from work, and Stephen was standing in our sitting room, and he told me there was a note waiting in our room from him and our dog, Bruiser. I went in to to the bedroom and read his lovely note, and at the end of the letter, it said, "myself and Bruiser have a question", and when I walked back out, Stephen was on his knee with a beautiful ring, and Bruiser was beside him with a note around his neck asking "will you marry my dad".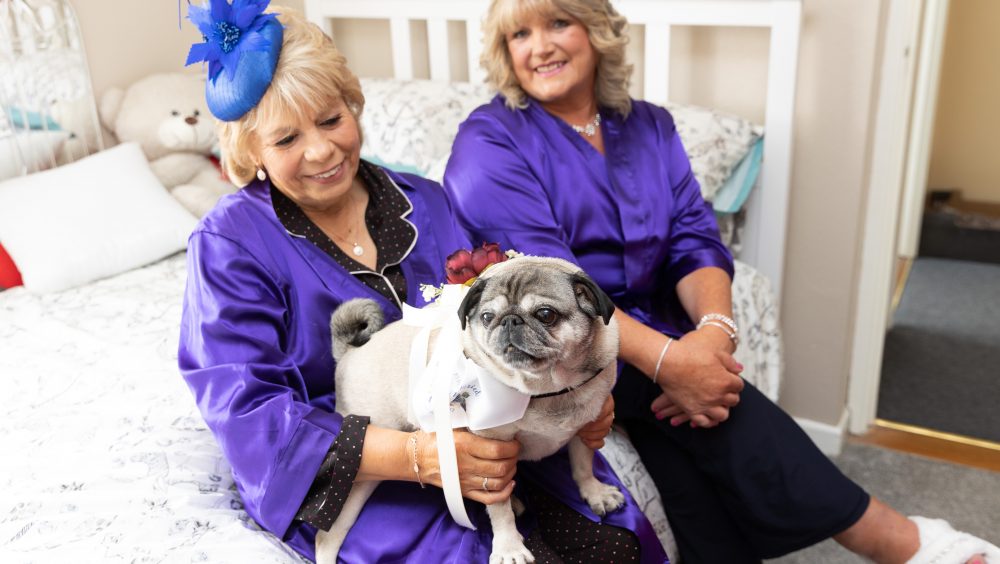 Why did you choose Clontarf Castle as your wedding venue?
I have always loved the idea of getting married in a castle, and Stephen's family was very close to Clontarf Castle. We hoped it would be a great fit, so we drove out to see it. From the moment we drove through the gates, we knew it was where we wanted to get married. It was so beautiful from the outside and when we walked in we got very excited. There was so much to take in, a true medieval castle. We had lunch in  Knights' Bar and decided. It was amazing…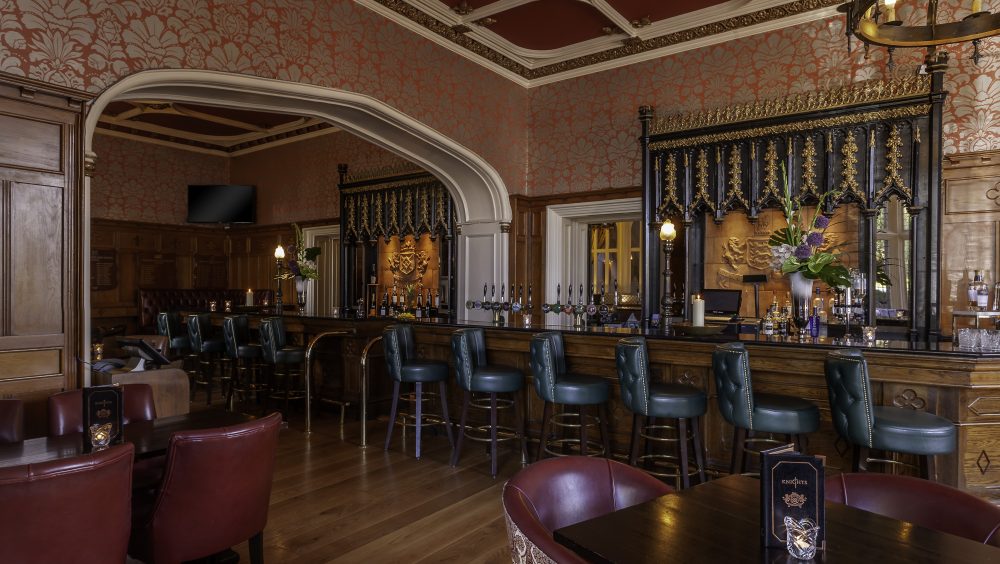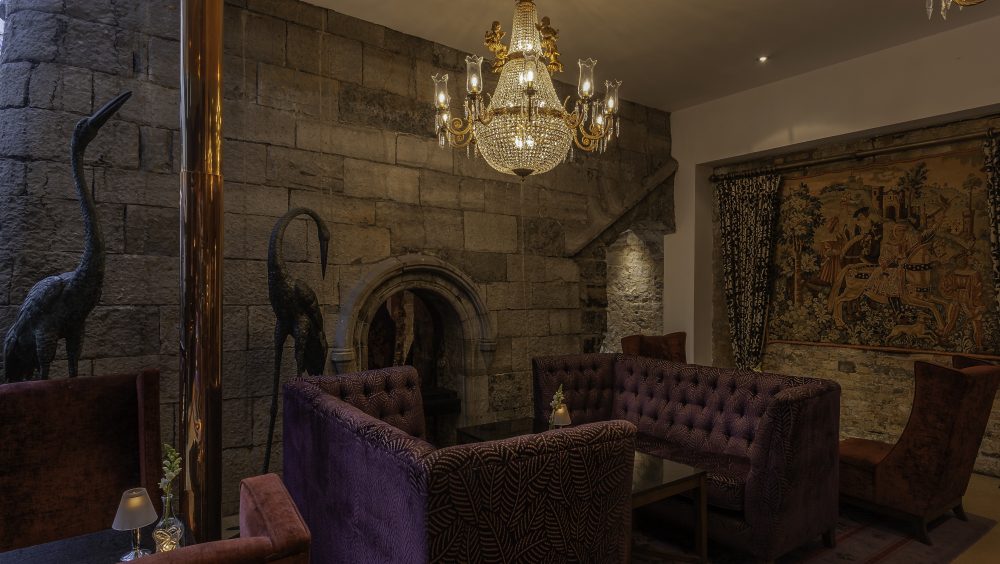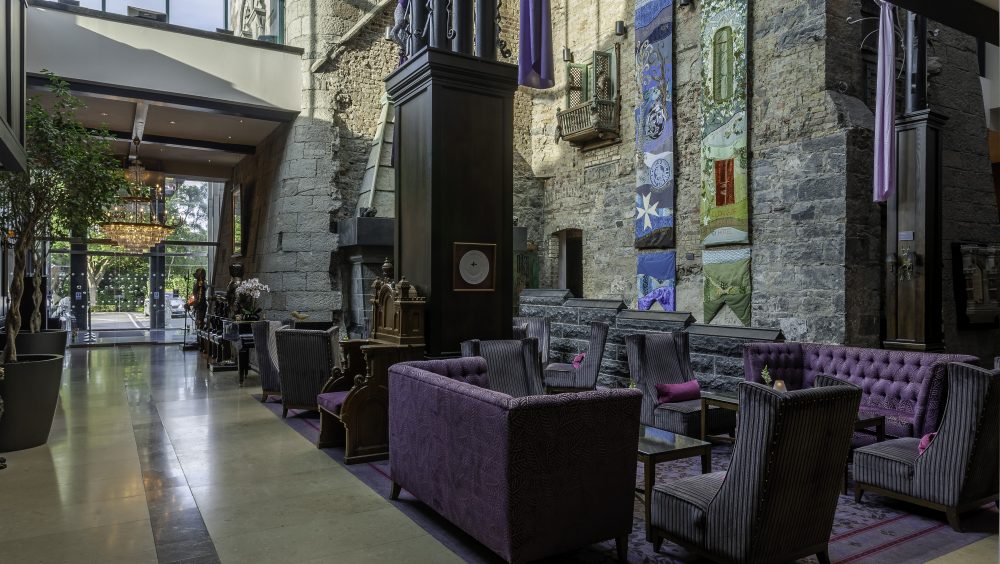 We had our appointment with the Wedding Coordinator the following week. We spoke to them about how we wanted it to be.  We went through their packages and picked what we wanted while enjoying a glass of champagne. They really made the experience so special.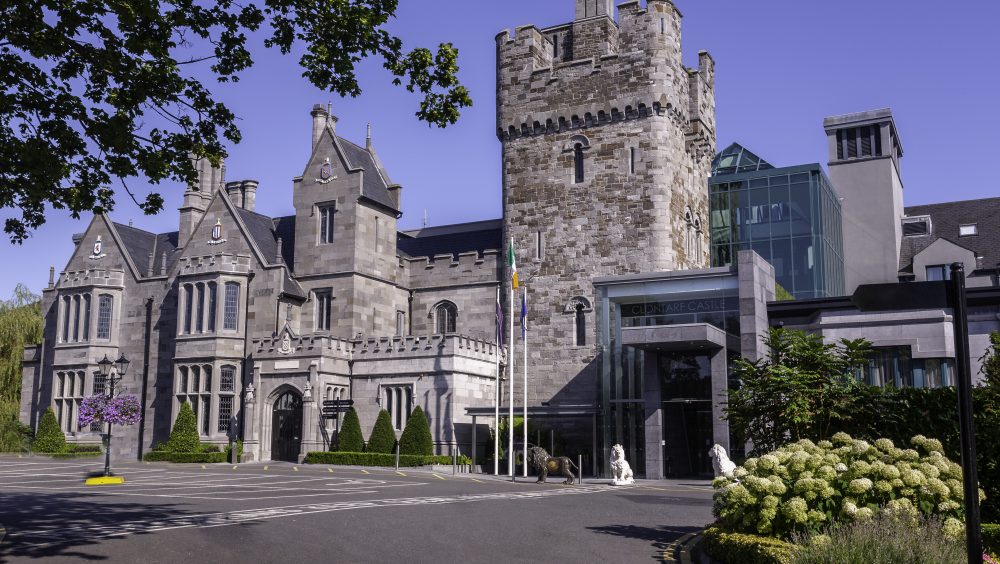 On your wedding day, what was the wow factor for you and guests?
When we pulled up at the old entrance of the castle it began, right through to when the night finished. Honestly the entire team at Clontarf Castle were falling over themselves to deliver excellent service. And they did. Everything was terrific. 
I have to give a shout out to Illusionist, Shane Black, who was excellent entertainment for our guests in the evening.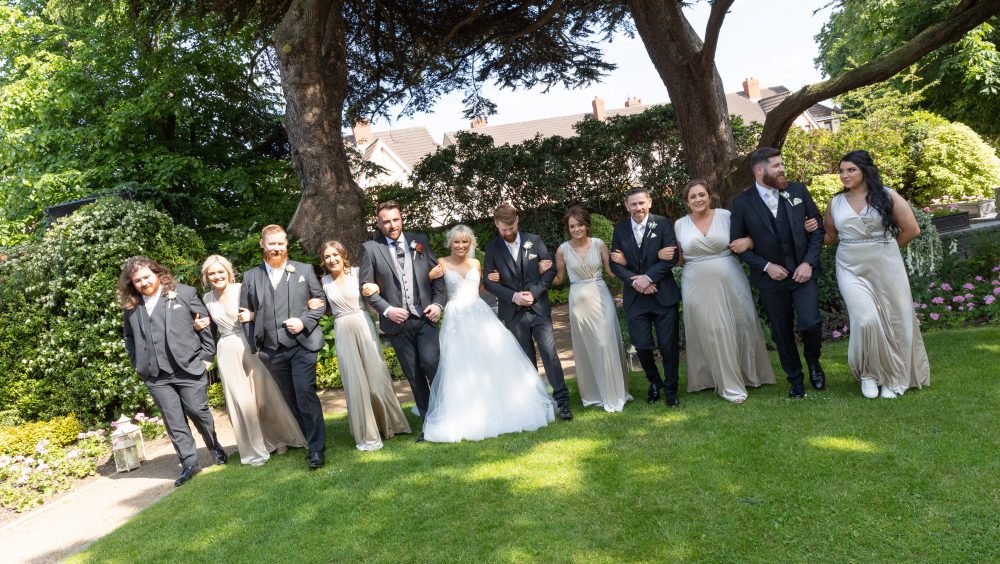 Did you follow any wedding trends, unique themes or ideas? Please tell us all about it, what you included and why.
We had a forest/medieval theme.  We worked with a company called "All About Weddings", and they helped us with the decor. We had things like wooden blocks, crates, and lanterns for a real rustic look. My dad made us an archery board with flowers and lights, and the scripts on it were the table plan.  The guest book was also designed to match the medieval theme. The table names were our favourite movies and series, and the top table was "Robin Hood Prince of Thieves". Even our cake knife was a medieval sword!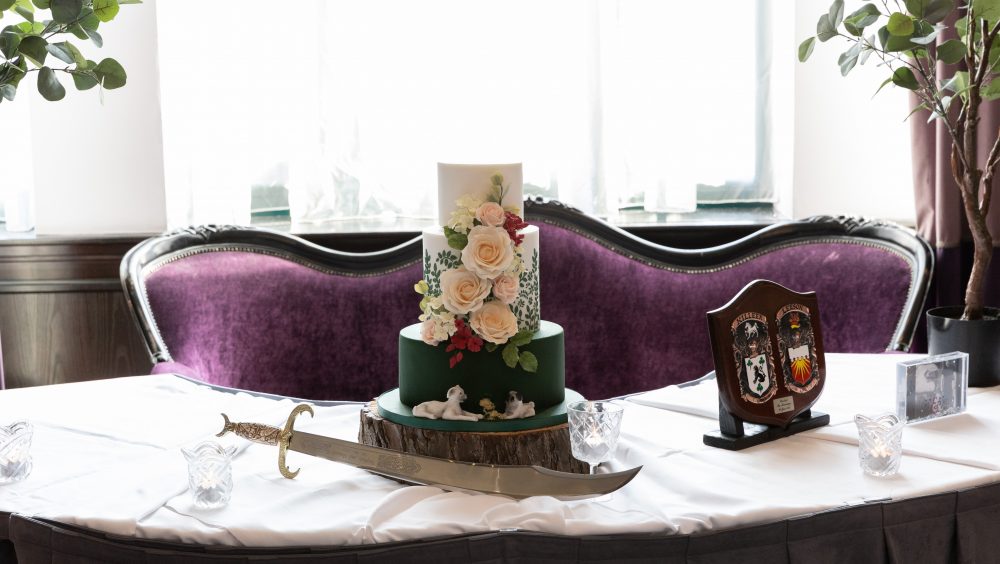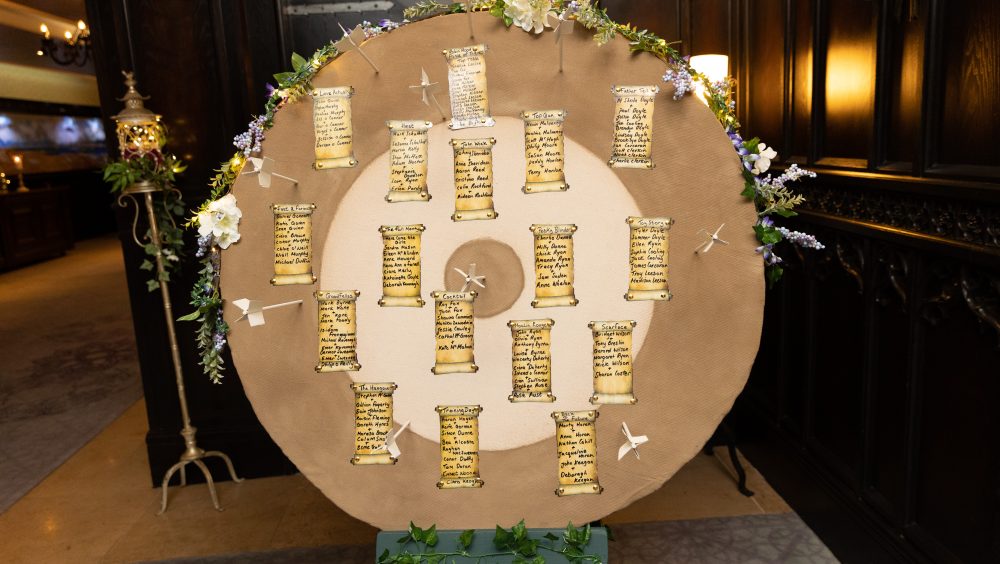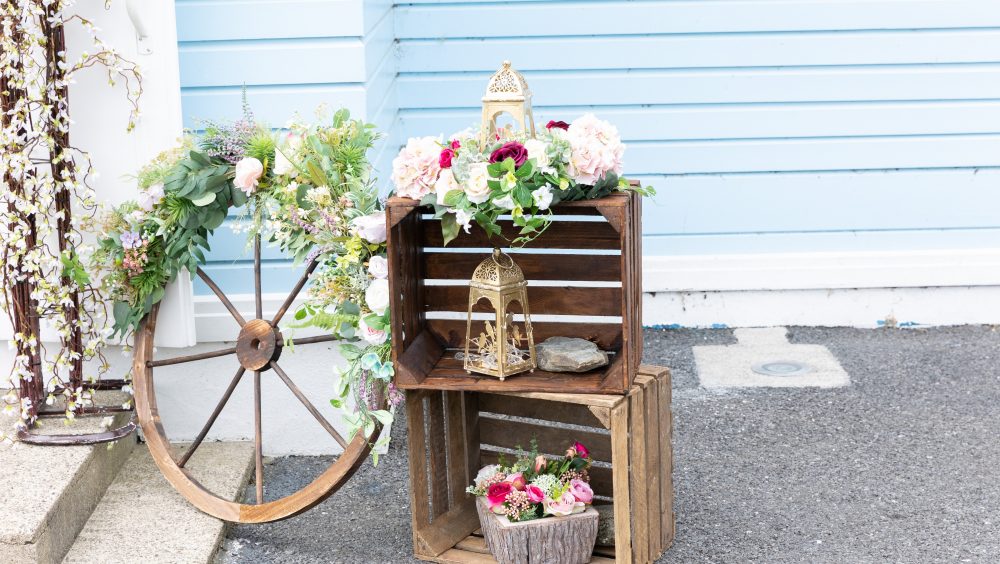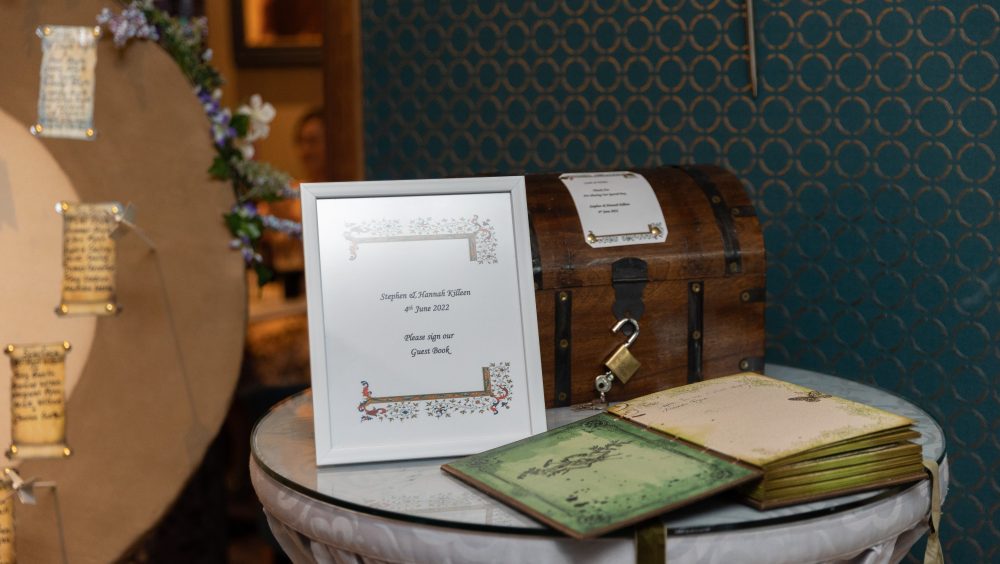 Was there a most special moment of your wedding day? Do you have any funny or embarrassing stories?
Our most memorable moment was meeting each other on the altar. It was definitely  tinged with a bit of relief as Stephen was standing on the altar for a half hour unaware that I had been delayed because I had forgotten the legal green folder and wasn't allowed into the church. He finally got word of the situation which alleviated his concern somewhat but we were both relieved to finally be standing side by side taking our vows.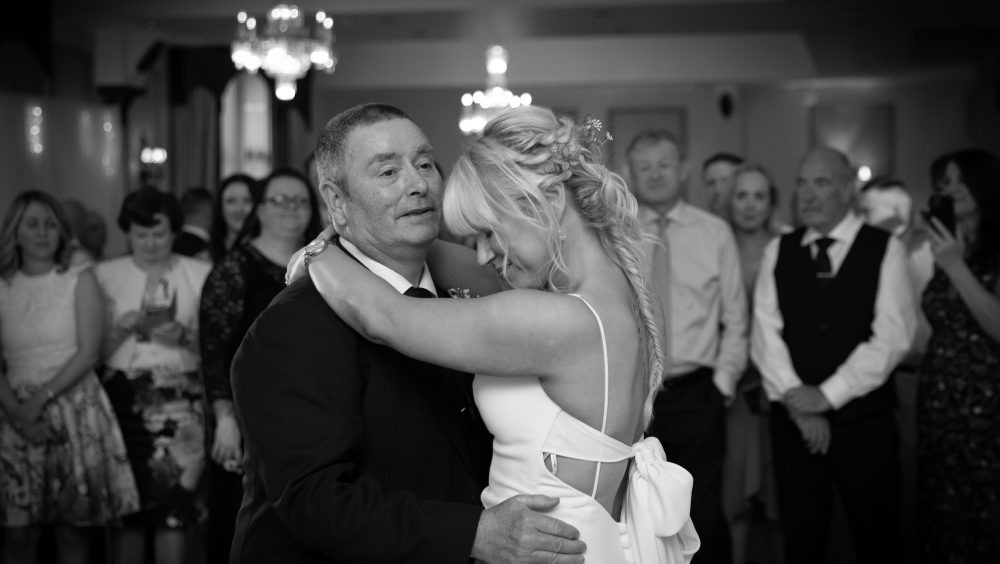 Tell us about your wedding attire – for you, your spouse and your wedding party.
I had two Wedding dresses, and I bought them both from Love Ellie Bridal where fell in love with two Stella York dresses. You see, I always wanted a princess-style gown with a bit of sparkle, but at the same time, I also wanted a nice fitted dress. So, I chose one for the day and changed to the other dress for the evening.
Stephen and our dads and the groomsmen wore black fitted suits. Stephen's suit came with a grey waistcoat and pocket watch. Our bridesmaids wore champagne-gold velvet dresses with diamante belts. Our flower girls wore champagne-gold dresses with butterflies on the skirt. Our pageboys also wore black suits with grey dinosaur waistcoats. We had burgundy in our bouquets and buttonholes, which looked fab with our colours and theme.
Stephen surprised me with my dream shoes for our wedding – Christian Louboutin's!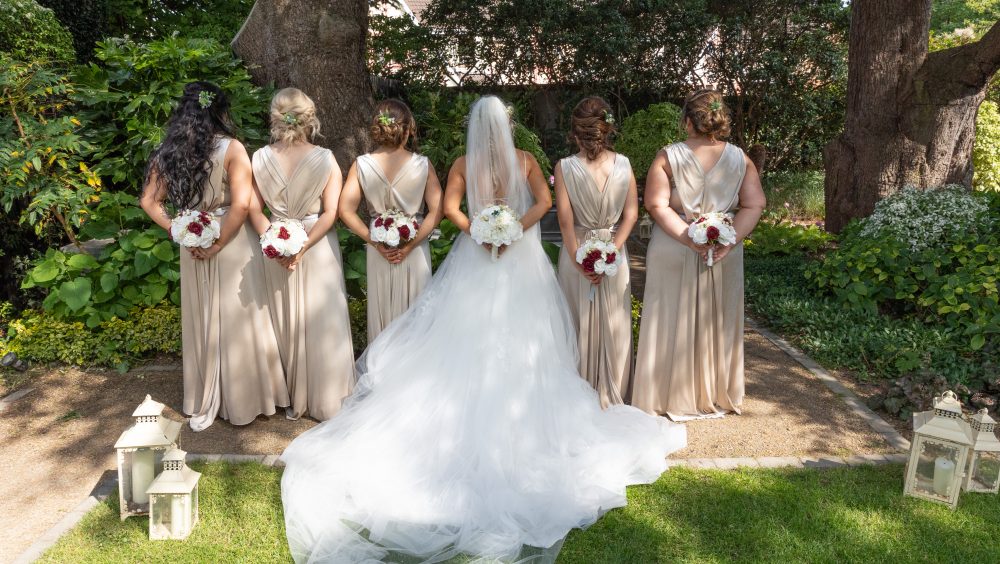 What was your favourite thing about your wedding photographer? How did you find the process of working with them?
Eric was extremely professional and pleasant to work with. He kept all of our guests entertained in the process of taking the photographs which makes for some great shots. He's a very likeable guy and he and our videographer worked very well together.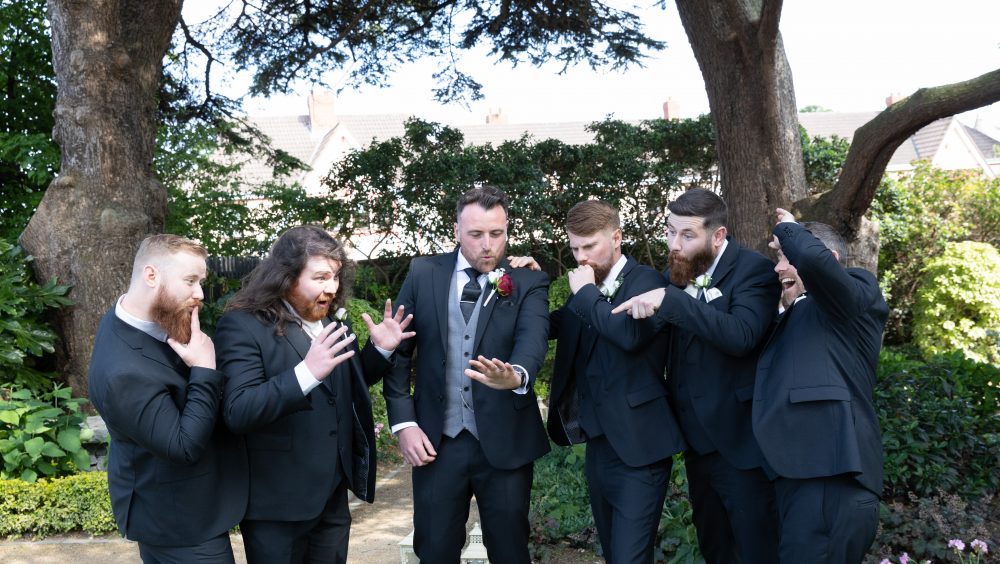 Is there anything else you'd like to say about your day, your venue or anything else?
We were lucky enough to get great weather on the day which was the icing on the cake. It all came together beautifully and we really enjoyed our day and wouldn't change a thing. It just made it so easy having excellent suppliers and a venue where nothing was too much to ask for.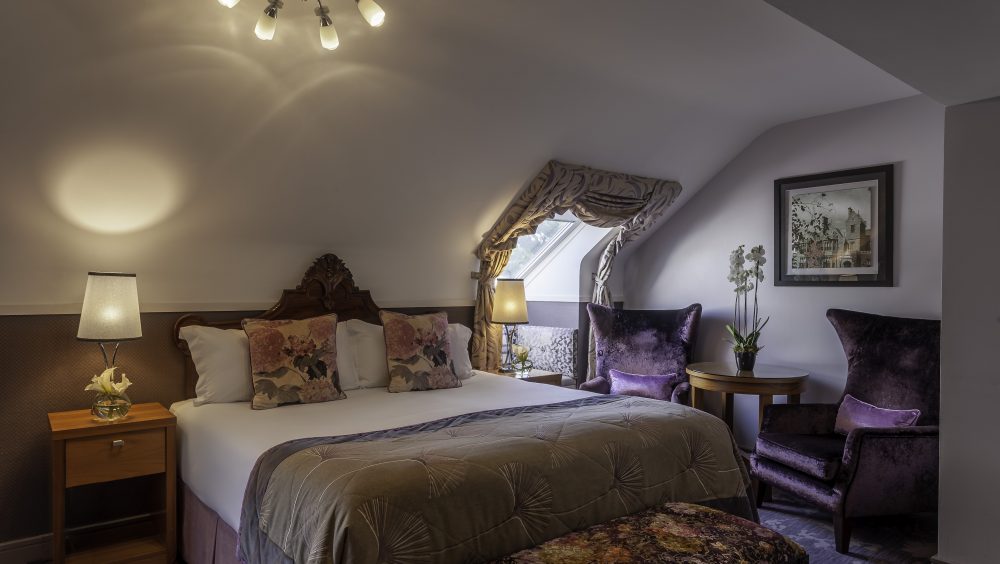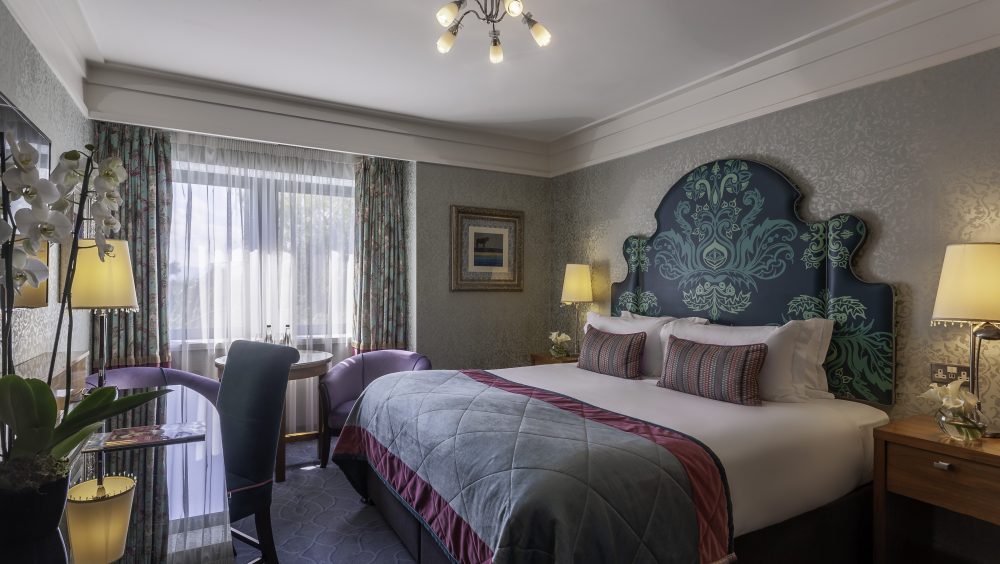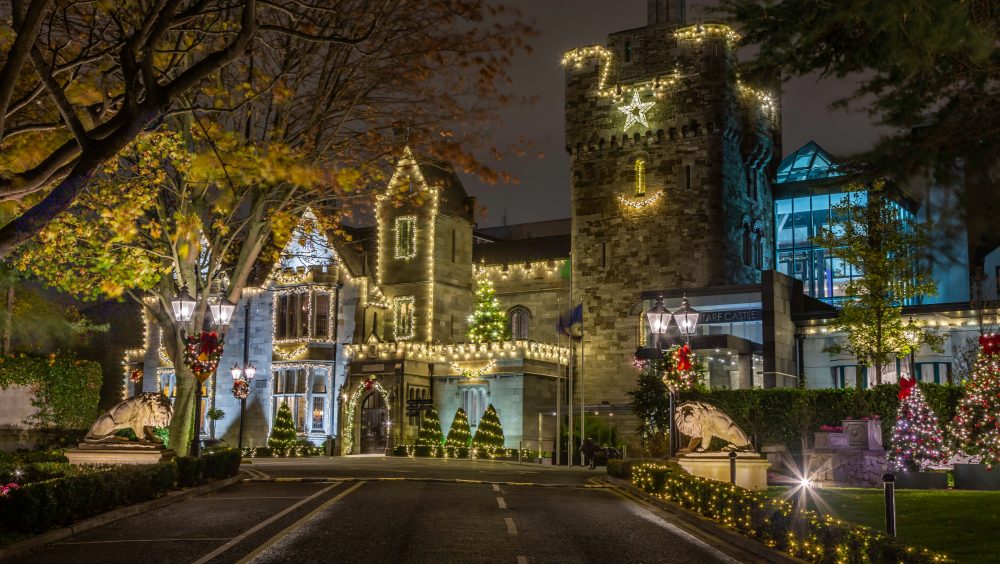 The Details: